Latest posts by Donald Kendal
(see all)
If you don't visit Somewhat Reasonable and the Heartlander digital magazine every day, you're missing out on some of the best news and commentary on liberty and free markets you can find. But worry not, freedom lovers! The Heartland Weekly Email is here for you every Friday with a highlight show. Subscribe to the email today, and read this week's edition below.
---
LeftExposed.org Profile of the Week: The Xerces Society
LeftExposed.org is a new Heartland Institute project devoted to creating accurate profiles of prominent individuals and organizations on the political Left with a special focus on groups in the global warming (a.k.a. "climate change") debate. Project Manager Emily Zanotti and principal researcher Ron Arnold have written a devastating exposé of The Xerces Society, a Portland-based non-profit organization fighting the use of pesticides and genetically modified organisms. Zanotti and Arnold document the organization's founding, funding, and latest scandals. READ MORE
---
Heartland Releases Third Study on Frac Sand Mining
Heartland Institute Research Fellow Isaac Orr and geologist Mark Krumenacher recently released a third Policy Study about frac sand mining. The collection represents the most up-to-date and thorough examination of this important part of the hydraulic fracturing industry. The trio of studies covers frac sand mining's environmental impacts, economic benefits, and effects on roadway infrastructure. Links to these comprehensive studies on frac sand mining can be found in a media advisory Heartland sent out this week. READ MORE
---
Angelo Codevilla and Don Devine on the New Ruling Class, Part 1
Listen in to a conversation led by Heartland Institute President Joseph Bast with scholars Angelo Codevilla and Donald J. Devine. Codevilla and Devine were featured speakers at The Heartland Institute's 31st anniversary benefit dinner last week and recorded a conversation in Heartland's new public meeting space during a special VIP reception. In Part One they talk about their latest books and how a new Ruling Class is waging a war against traditional American values. LISTEN TO MORE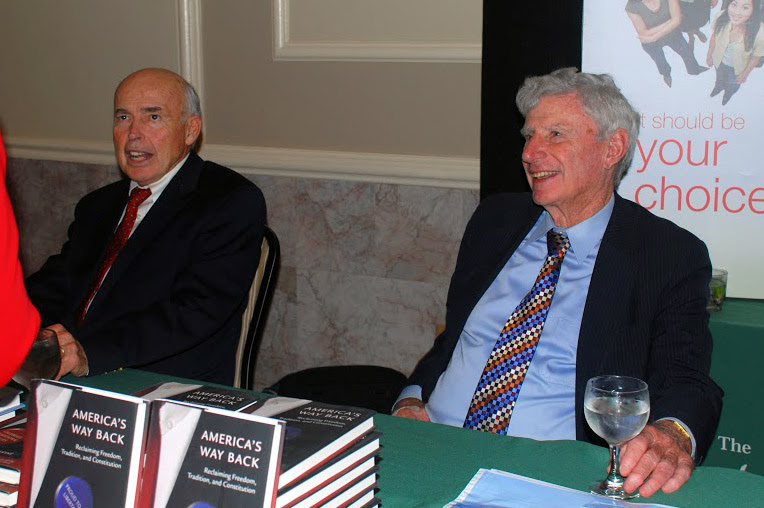 ---
Michigan Pols Battle over Obama Clean Power Plan
Tiffany Taylor, The Heartlander
Michigan Gov. Rick Snyder (R) announced his state will not challenge the Obama administration's Clean Power Plan (CPP) despite Michigan Attorney General Bill Schuette's decision to join a lawsuit challenging CPP's legality. Schuette sides with affordable energy advocates who say it is better for Michigan to fight back against the expensive, legally questionable federal mandates than simply accept them. READ MORE

---
---
Heartland's New Event Space Is Open for Business!
The Heartland Institute's beautiful new event space is open, and we have several great events already lined up. Heartland is dedicated to bringing you the best content the liberty movement has to offer with debates, lectures, book talks, and luncheons. Upcoming events include a book signing with Peter Ferrara, author of Power to the People, and a panel on women in politics. Register for an upcoming event today! And if you require space for your own liberty-centered event, let us know! We can host groups up to 77 people. READ MORE
---
West Virginia Sin Taxes and Vaping
Matthew Glans, Heartland Research & Commentary
West Virginia has become increasingly reliant on revenues from sin taxes on tobacco, alcohol, and gaming to close budget gaps. The state justifies such "sin taxes" as a way to discourage unhealthy behavior, but recent calls to apply "sin taxes" to electronic cigarettes will not achieve this goal. In fact, increasing taxes on e-cigarettes would remove economic incentives for smokers to switch from tobacco to this healthier alternative. READ MORE
---
EPA's Methane Rules Come from Same Playbook as Clean Power Plan
Isaac Orr, Townhall
A new rule proposed by the Environmental Protection Agency would require a reduction of 40 percent or more of methane emissions by 2025. Like the Obama administration's Clean Power Plan, the proposed new regulations would impose enormous costs on energy consumers and producers without having any meaningful impact on the environment. But then, maybe that's the point? READ MORE
---
Lies, Damned Lies, and Common Core
Joy Pullmann, School Choice Weekly
Only Common Core supporters were surprised that one of the central promises they made isn't coming true: The New York Times reports states are labeling the same test scores in wildly varying ways despite using the same Common Core tests. In other words, what counts as proficient in Ohio still doesn't count as proficient in Massachusetts, despite federal officials having bribed states to use the same tests by promising they would create national standards. READ MORE
---
Bonus Podcast: Dan Simmons on New Ozone Regulations
Dan Simmons, vice president for policy at the Institute for Energy Research, joins Heartland Institute Research Fellow H. Sterling Burnett to discuss the Obama administration's new ozone regulations. As Simmons explains, the new ozone rules would provide few if any public health or environmental benefits while imposing a high cost on the economy. Gosh, who would have thought? LISTEN TO MORE
---
Jeb Bush Offers Both 'Tricks' and 'Treats'
Justin Haskins, Consumer Power Report
Republican presidential candidate Jeb Bush recently released a policy outline for repealing and replacing the Affordable Care Act, or Obamacare. However, while some parts of the plan aim to impose free-market reforms, other portions of the unpopular Obamacare system would remain in place. If this is the best Jeb can do, it's no wonder he's failing to ignite much interest among voters. READ MORE
---
Colorado Must Exercise Patience Using Marijuana Revenues
Justin Haskins, The Denver Post
The end of marijuana prohibition in certain states has led to the collection of millions of dollars in new tax revenue. In fact, the State of Colorado has collected so much money that it is having trouble determining what to spend it on. In their haste to spend this new income, legislators should avoid adopting a plan that is harmful to the state and taxpayers. READ MORE
---
Invest in the Future of Freedom! 
Are you considering 2015 gifts to your favorite charities? We hope The Heartland Institute is on your list. Preserving and expanding individual freedom is the surest way to advance many good and noble objectives, from feeding and clothing the poor to encouraging excellence and great achievement. Making charitable gifts to nonprofit organizations dedicated to individual freedom is the most highly leveraged investment a philanthropist can make. 
Click here
 to make a contribution online, or mail your gift to The Heartland Institute, One South Wacker Drive, Suite 2740, Chicago, IL 60606. To request a FREE wills guide or to get more information to plan your future please visit My Gift Legacy 
http://legacy.heartland.org/
or contact Gwen Carver at 
312/377-4000
 or by email at 
gcarver@heartland.org
.